Elevate Your Home's Aesthetics with Cabinet Refinishing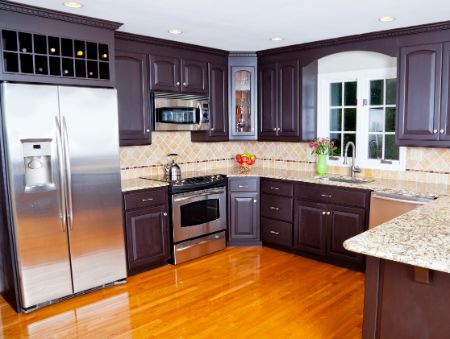 At A Job Well Done, LLC, we understand the transformative power of a well-executed home improvement project. If you're looking to revitalize your living space without the expense and hassle of a complete kitchen remodel, our cabinet refinishing services are the perfect solution. With our expertise, attention to detail, and commitment to customer satisfaction, we can breathe new life into your cabinets, giving your home a fresh and updated look. In this article, we'll explore how our cabinet refinishing services can transform your home and create a stunning visual impact.
Affordable Alternative to Cabinet Replacement
Replacing kitchen cabinets can be a costly endeavor, often requiring a significant investment of time and money. At A Job Well Done, LLC, we offer an affordable alternative with our cabinet refinishing services. By utilizing your existing cabinets as a foundation, we can revamp their appearance and style, saving you thousands of dollars compared to a complete cabinet replacement. Our skilled craftsmen possess the expertise to work with a variety of materials, from solid wood to laminate, ensuring a flawless finish that rivals brand-new cabinets.
Personalized Style and Customization
Your home should be a reflection of your unique taste and style. With our cabinet refinishing services, we offer a wide range of options for customization. Whether you're seeking a classic, timeless look or a modern and sleek aesthetic, our team will work closely with you to understand your vision and transform it into reality. From selecting the perfect color or stain to adding decorative accents or unique hardware, we take pride in providing personalized solutions that breathe new life into your cabinets and make them a standout feature in your home.
Expert Craftsmanship and Attention to Detail
At A Job Well Done, LLC, we believe that the key to a successful cabinet refinishing project lies in craftsmanship and attention to detail. Our team of experienced painting contractors possesses the skills and expertise to handle every aspect of the process with precision and care. From thorough surface preparation to meticulous application techniques, we ensure that every cabinet receives the highest level of craftsmanship. Our goal is to achieve a flawless, factory-like finish that enhances the beauty of your cabinets and leaves a lasting impression.
Minimal Disruption and Quick Turnaround
We understand that your home is your sanctuary, and we strive to minimize disruption during the cabinet refinishing process. Our team works efficiently and respects your space, taking care to protect surrounding areas and keeping the workspace clean and organized. With our streamlined approach, we aim to complete projects in a timely manner, allowing you to enjoy your revamped cabinets sooner rather than later. Our commitment to customer satisfaction means that we prioritize open communication and ensure that you're informed about the progress every step of the way.
Increased Home Value and Aesthetics
Investing in cabinet refinishing from A Job Well Done, LLC is not only a visual enhancement but also a smart financial decision. Upgrading your cabinets can significantly increase the value of your home, making it more appealing to potential buyers if you ever decide to sell. Additionally, the renewed aesthetics and improved functionality of your cabinets can enhance your daily living experience, making your kitchen a more enjoyable and inviting space for you and your family.
Cabinet refinishing from A Job Well Done, LLC offers a cost-effective and transformative solution to upgrade your home's aesthetics. With our expertise, attention to detail, and personalized approach, we can revitalize your cabinets, breathing new life into your kitchen or any other space. Our commitment to quality craftsmanship, minimal disruption, and customer satisfaction ensures that your cabinet refinishing project will be a success. So, if you're ready to transform your Burlington home and create a brand new look for your cabinets, call on our team to get the results you want most!