Wallpaper Removal FAQ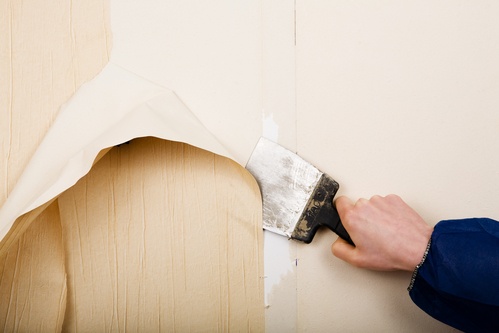 Wallpaper is a more personal decorative feature that people choose to suit their own personal style. A solid wall color, on the other hand, will appeal to more people. Although wallpaper can really set off a great design, it can also become faded with time or start to peel away.
Fads and styles change, so the wallpaper design goes out of style. At that point, a new owner comes in and wants to get rid of the old wallpaper and replace it with something fresh and new.
Whether you have old wallpaper that needs to come down or want to replace it with a wallpaper that's more suited to your tastes, removing it can be a nightmare. This is why so many choose a professional wallpaper removal service to handle the project for them.
With wallpaper removal, it's important to know what building materials are underneath, what the wallpaper is specifically made of, what type of glue or adhesive was used to adhere it, and how best to remove it based on those factors.
A Job Well Done, LLC is a full-service Burlington painting company who has been removing and replacing wallpaper since 2011, though we have many more years of industry experience. Here are some common questions and answers about wallpaper removal you will want to know.
Question: What is the best way to remove wallpaper?
This depends on what is underneath and what the wallpaper is made of. The adhesive used is also a consideration.
Steaming to remove wallpaper – A steamer is best for wallpaper removal on heavy, stiff wallpaper. The steam softens the glue. It's important to use the right amount of steam or drywall & plaster can be damaged.
Dry Stripping for wallpaper removal – Drystripping is only effective on strippable wallpaper. Strippable wallpaper feels like plastic because it is composed of a vinyl composite material. It is easier to remove unless the adhesive holds onto the wall too strongly.
Chemical Soaking for wallpaper removal – Scoring has to be done first on vinyl and acrylic wallpaper. Then a chemical agent is used and is given time to soak in. The wallpaper has to be scrubbed to remove it.
Question: Will the drywall get damaged after the wallpaper is removed?
If you are doing it yourself, probably. Professionals with experience aren't likely to damage the surface underneath. However, there are rare times when it can't be avoided.
Question: Why is some wallpaper so hard to remove?
Sometimes wallpaper is hard to remove due to the adhesive. Or, it could be that the wallpaper was hung on an unprimed surface. The wall has to be sealed first with primer or the adhesive sticks too deeply. Drywall especially has this problem because it's very dry and soaks in moisture very quickly.
Question: Can I paint over wallpaper?
You can, but it will leave a visible seam shadow from the wallpaper underneath. Also, the seam can start to loosen and peel later. It's best to remove the old wallpaper before painting. This way, the investment of the paint job isn't at risk.